1982: SUNKEN HOUSEBOAT LAUNCHES NEW CAREER

In 1982, Fay Faron bought a houseboat in Sausalito. Six weeks later, it sank in a freak storm. Mugged just 36 hours before, Faron suddenly had no home, no furniture, no money, no clothes, no nothing. Her lip was split open and required six stitches. To complete her misery, she took a job she hated and bought a Fiat.

In order to prove her claim that water in the hull was the reason the houseboat sank, Faron had to find the guy who rented the boat just prior to her purchase. She did, in just a couple of days, even though he'd changed his name to a mantra and moved to a cave in Texas. Her attorney was so impressed he hired her to find three "judgement jumpers." She learned two things. The first was that "skiptracers" made a whole lot more money than production assistants at KGO-TV, which is what she was doing at the time. The second was, that at long as she didn't interview people, carry a gun or have car chases, she didn't need a license.


THE NAME


After being told of a contractor's ability to find leaks in a roof "like a rat dog finds rat," Faron decided to call herself Rat Dog Dick, "the skiptracer who finds people like a rat dog finds rats."

---

1985: ILLEGAL SKIP-TRACER TO LICENSED PRIVATE EYE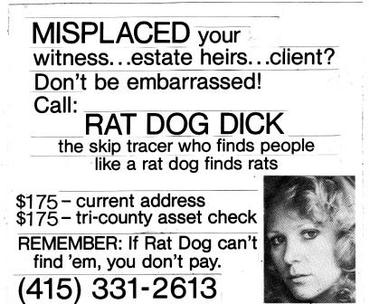 Eventually the Department of Consumer Affairs took umbrage to Faron's unlicensed endeavor, declaring she should cease and desist or they'd cease and desist for her. She took their little test - all about rigor mortis and lots of other stuff she never hoped to see - and passed, due largely to Rockford reruns.
---
---
1991: THE "ASK RAT DOG" COLUMN


Faron took out an ad in the legal newspaper and it wasn't long before the press came calling for a feature article to go with. More press followed and Faron could not help but notice when she got press, she got cases. She created her own press by penning a column for the local neighborhood newspaper, The Marina Times. A year later, "Ask Rat Dog," was syndicated by King Features.

---
OPRAH BRINGS TOGETHER TWO LIKE MINDS

| | |
| --- | --- |
| | "Ask Rat Dog," ran in The Chicago Sun Times in 1993 and caught the attention of the producers of the Oprah Winfrey Show. Faron appeared on the syndicated talk show three times in all but after the first, she received a letter from Ann Flaherty who wanted to come to work for her. Impressed by Flaherty's credentials, Faron hired her on the spot. Despite being a gifted detective, Flaherty shared Faron's sense of justice. Together they would crusade against injustice, especially united in the field of protecting victims of financial elder abuse. |
---
1993: FOXGLOVE

Faron had already acquired the "Foxglove Case," in which a group of self-described gypsies were targeting San Francisco's elderly for sweetheart scams but one thing that impressed Faron about Flaherty's resume was the fact that she had worked with one of the suspects at a local department store.

Flaherty gladly joined in investigating the profit turned pro-bono case which resulted in numerous articles in magazines like People and Vanity Fair, TV shows like 20/20, and Edgar award-winning author Jack Olsen's true crime, Hastened to the Grave.


---

1997: ELDERANGELS

It was the frustration of trying to make a criminal case against the perpetrators in the Foxglove case that spurred Faron and Flaherty to co-found ElderAngels, a 501 (c) 3 non-profit to help victims of financial elder abuse. Flaherty still operates the foundation, giving reduced fees for clients who cannot pay. Together Faron and Flaherty have successfully lobbied the California State legislature to make financial elder abuse a felony rather than a misdemeanor.


2001: TRANSFER OF POWER

in 2001, Faron moved to New Orleans and sold The Rat Dog Dick Detective Agency to her trusty chief investigator, Ann Flaherty. (PI20102) Unable to give up the righting of wrongs, Faron investigated the Crescent City Connection in 2006 which resulted in a change in management after a combined 30 years in charge. In September of 2013, she was officially declared, "Ferry Godmother of New Orleans" by the New Orleans City Council for her efforts in saving the city's ferry system.